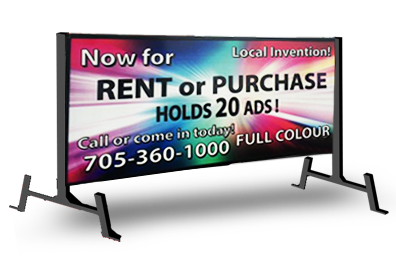 HOW DO CURBSIDE SIGNS WORK?
Curbside signs transmit your message easily and effectively
Billboard Advertising
Despite a recent slowdown in the billboard advertising industry, it's still considered an effective way of grabbing consumers' attention fast. In fact, as the Internet becomes saturated with advertising, there's a tendency back towards offline advertising. And that trend is expected to grow.
You need to be prepared to reach consumers over more than just digital channels. Billboards regularly form an integral part of city skylines and highways, influencing buyers with their giant, colorful and highly visual form of advertising.
The Solution
Curbside Signs take your billboard advertising to the curb. With this new and stunning alternative to traditional billboard advertising, Curbside Signs are the solution for all types of businesses, both large and small.
Curbside Signs are tough enough to endure harsh weather conditions and built to last. They don't require the same investment in manpower and installation to get your message across. You can swap out campaigns and clients with ease, and gain street side access to consumers for way more bang for your marketing buck.
The Problem
The problem with billboard advertising is that it can be very expensive and a huge investment for businesses. For small companies and startups, it's impossible to find the budget to compete with the big players for premium space and locations.
What's more, investing in this type of campaign requires lengthy advance planning. Some prime real estate spots are booked for years in advance. Because the advertising is hard to remove, you can't easily pull a billboard campaign that's not working or swap out clients effectively.
Save Time and Money
Curbside Signs will save you time in planning lengthy campaigns and money from investing in competitive advertising real estate. With easy changeable bidirectional panels, your Curbside Signs will be seen by consumers in both directions. They're more attention-grabbing than tradition billboards, as they're right on the curb and new and interesting to look at.
WHY BUY CURBSIDE SIGNS?
Curbside signs allow you to access thousands of people without blowing your budget
Simple and Effective
Traditional billboard advertising is expensive and not always effective, as
consumers divert their attention away from visual contamination. Because of the high price tag associated with this type of advertising, you need a huge marketing budget, that many small businesses don't have. There's a lengthy wait time to plan campaigns and a huge investment in installation that you have to pass on to your client. Curbside Signs are your simple solution to all these problems.
Durable and Easy to Change
Curbside Signs are made from 3/8" steel, making them built to last and tough enough to handle most types of weather conditions. Taking your advertising to the curb is the perfect way to catch consumers' attention, as they yearn for new ways of receiving advertising messages.
With easy-to-change panels, you can swap out your message as often as you want, so they're perfect for multiple clients or campaigns. You'll get access to prime advertising real estate easily and without blowing your budget on traditional billboard advertising.
Eye-Catching –A new way of catching consumers' attention curbside
Durable –Unlike many other signs, Curbside Signs are built to last
Changeable –Swap the panels with ease and minimum effort
Cheap –Save valuable marketing dollars spent on traditional billboard signs
Bidirectional –Two-way panels means your message won't be missed
Saves You Time and Money
Curbside Signs are easy to install and provide a quick lead time to your campaigns. Catch the attention of consumers easily and in a new way, as you take your advertising to the curb. Save time planning campaigns and money competing with the biggest companies. Get your message across quickly and effectively with Curbside Signs.
Eye-Catching
Curbside Signs are a new way of reaching consumers, which means that their innovative appeal is guaranteed to command more attention. Unlike billboard signs that are one-directional, Curbside Signs can be seen from both sides, so you'll get double the traffic.
WHAT ARE CURBSIDE SIGNS?
Curbside Signs are a new concept in billboard advertising
Traditional billboard advertising has come a long way. From flat, static images to colorful, animated augmented reality, there's no doubt about it – they command attention. But they can also be visual contaminants and an obstruction to drivers and passers-by, as their attention is diverted.
TTraditional billboards are expensive, which means only large companies with massive budgets can access this type of advertising. There's fierce competition for advertising real estate and campaigns must be planned well in advance, sometimes years. With all these prerequisites, it can be impossible for small businesses to gain access. On top of that, billboards are one-directional, which means that if consumers aren't facing their direction, your message will be missed.
Durable, Adaptable, Eye-Catching
Curbside Signs are made from thick 3/8" steel. They are durable and long-lasting, yet easy to assemble in comparison to regular billboards. They allow smaller businesses to gain access to prime advertising real estate and swap out messages easily with their changeable panels.
A new concept in billboard advertising, Curbside Signs will command consumer attention. They're bidirectional, which means that you'll be seen by passers-by in both directions, unlike traditional billboards. You can get your campaign to market quickly and easily with Curbside Signs, without blowing your marketing budget.
A New Concept in Advertising
As the Internet becomes more crowded and ad-blockers allow users to experience surfing without visual contaminants, there has been a major shift back to traditional offline advertising. Curbside Signs step up to the plate with a new concept in advertising, accessible to businesses large and small. Eye-catching and effective.
Advertisers are always searching for new ways to catch consumers' attention for their clients and generate greater sales. Curbside Signs command attention for their prime locations, bidirectional message and innovative design, catching attention for less marketing dollars.
 We understand that every business has different needs, so we've made it as easy as possible to have a Curbside Sign. Our flexible contracts can fit any advertising budget, and our dedicated design team will make sure your graphics are big, beautiful, and ready when you need them most.
RENTAL OPTIONS: Rent these signs for a worry-free advertising solution! Terms start at one month, with options for a free set of single sided coroplast panels with every six-month term.
LEASE OPTIONS: Terms start at 18 months, and receive a free set of single sided coroplast panels with every lease term.
PURCHASE OPTIONS: Purchase these signs for a quick return on your investment!